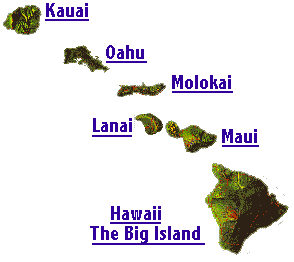 MY 2002 VACATION IN HAWAI'I
Me and my traveling companion
did the "climb" up the mountain,
up through the battlement there,
and to the "summit"

There is a 100 stairstep climb that was a good
challenge...What I did was...
...took one deep breath and took each step
with a cadence of about two steps per second
and made the top without stopping!!!
SITE LINKS
AND
IMAGES

PICTURES AND IMAGES
...BEACHES
...CARTOONS/CLIPART
...SUNSETS
...VOLCANOES
...MY 2002 VISIT
...MISCELLANEOUS

LINKS
BOOKS/MAGAZINES
MUSIC
POSTERS
VIDEOS/DVDS
E-MAIL LINK

We visited the
DOLE plantation...
did the maze...
and ate pineapple
ice cream...






ALOHA!!!
MAHALO FOR VISITING

Lots more pix and images
coming soon
for your enjoyment!!!

Some things we did...

Visited the U.S.S. Arizona Memorial

Went on board the U.S.S. Missouri BB63

Spent a day at the Polynesian Cultural Center, inckuding a Luau

Lots of beach time at Waikiki and the North Shore!!!

Went to Aloha Stadium for the weekend flea market - saved money over Waikiki prices!
Ate shaved ice, mahi-mahi and drank a lotta mai-tais, pina coladas, etc...:-)
Saw awesome sunsets at Waikiki and Turtle Bay
Seems like there is a parade or festival every few days...saw them all!!!

Quick nav links to our best stores!!
[ Mall Directory | Books | Harry Potter | Videos | Music | Star Wars ]


We belong to all the following
Paid To Click programs!!!
We have received a LOT of payments from them!!
We are recommending only these as we have tried others
but they had problems of one kind or another...
We invite you to join..some have signup bonuses!!!

8-11072005