WELCOME TO A CELEBRATION OF CHRISTMAS!!
This is an evolving site...
come back now and then and see what we're up to and what we've added!!
And, thanks for stopping by...

You are one of the
people who are celebrating the holidays with us!!

SIBLING WEBSITES
Twenty Four Seven Mall
Harry Potter
Anna Kournikova
Britney Spears
Dinosaurs
Elephants
Pokemon
Tour de France
Hawai'i
World Trade Center
Personal Finance Advisor
Union Pacific Railroad Railfans
Wizard of OZ - The Movie
NASCAR

GOD BLESS



AMERICA

WEBRING INFORMATION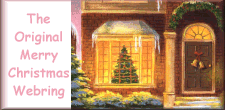 Previous | Next | Index | Random
We belong to all the following
Paid To Click programs!!!
We have received a LOT of payments from them!!
We are recommending only these as we have tried others
but they had problems of one kind or another...
We invite you to join..some have signup bonuses!!!