IT'S A JUNGLE IN HERE!!
Dorothy, Tin Woodsman and Scarecrow

The journey from the Tin Woodsman's house starts off innocently enough. After all, they just escaped the Wicked Witch's attempt to put a little fire in the Scarecrow's life!! But before long the forest becomes a dark and scary place...so cue the lion!!!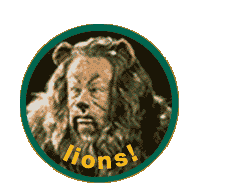 Same Characters - Another View


These faces tell it all. They've seen AND heard the lion. And for a few minutes, this lion is too scary for words...until he messes with Toto - As you'll see in the next scene.

...There's No Place Like Home...Page...

We belong to all the following
Paid To Click programs!!!
We have received a LOT of payments from them!!
We are recommending only these as we have tried others
but they had problems of one kind or another...
We invite you to join..some have signup bonuses!!!

Check out this program!!!


Sign up TODAY!!!

PLAY LOTTA FUN LOTTO!!
A 6/35 Weekly Lotto Game - FREE
10231-09172006