THE TOP TEN LIST - courtesy of the David Letterman Show
Why it took Dale Earnhardt 20 years to win the Daytona 500
10. "It took me 19 years to realize I had the emergency brake on."
9. "Finally rotated and balanced my mustache."
8. "Quit training with the Canadian snowboarding team."
7. "Stopped letting my 300 pound cousin, Ricky, ride shotgun."
6. "New strategy: Pretend I'm Dave driving home on the Merritt Parkway."
5. "Who cares if it took me 20 years-at least my name isn't Dick Trickle."
4. "Just figured out that if I mash the gas pedal all the way down, the car takes off like a son-of-a-bitch."
3. "My new pit crew--the Spice Girls."
2." This year, whenever I passed somebody, I gave them the finger."

"And the number one reason it took Dale Earnhardt 20 years to win the Dayton 500..."

"My secret to success: One can of motor oil in my engine, and one can of motor oil in my pants."

...unfortunately, Dale did not win any more races in 1998, but did finish in the top ten.

WE ARE GOING TO MISS DALE FOREVER...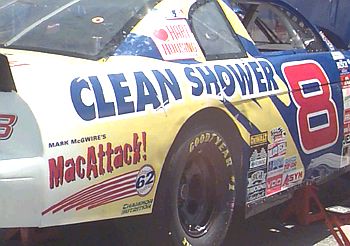 As St. Louis Cardinal fans, we had to have a picture of this car around here...
We belong to all the following
Paid To Click programs!!!
We have received a LOT of payments from them!!
We are recommending only these as we have tried others
but they had problems of one kind or another...
We invite you to join..some have signup bonuses!!!

PLAY LOTTA FUN LOTTO!!
A 6/35 Weekly Lotto Game - FREE

318-06282005