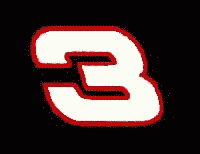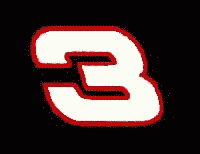 DALE EARNHARDT
MEMORIALS
ONE QUARTER MILE FROM HEAVEN
Like a guardian angel from three cars back,
Watching Michael & Dale Jr. as they circled the track.
No intention of winning, just holding his place,
So proud of his "boys" now winning the race.
We thought it was over, the end was so near.
No time for pain; no time for fear.
We did not know, as there was no sign,
Dale was only one-quarter mile from his final finish line.
Within an instant, NASCAR fans would be facing,
An eternal change in their world of racing.
He was one of the greatest; beloved in his sport,
With a grand career now sadly cut short.
All the crowd noticed was excitement and debris,
But a miracle was happening we could not see.
Dale said goodbye through shining metal and chrome,
As God gave "NUMBER 3" the checkered flag "home".
But forever in our hearts, and in the scheme of things,
We'll picture him circling heaven with black and red wings.
Grinning; telling angels..and even the Creator,
"Look out over there...here comes the
"INTIMIDATOR".
Author Unknown
SITE LINKS
AND
IMAGES

PICTURES AND IMAGES
...THE MAN
...THE #3 CAR
...THE DAYTONA 500
...DEI
...MEMORIALS
BOOKS
POSTERS
E-MAIL LINK

Statue at...

Daytona International
Speedway





WELCOME
THANK YOU FOR VISITING

There have been countless memorials and tributes
to this fallen competitor.

We have tried to collect some of them here.

GOD BLESS

AMERICA

One more checkered flag...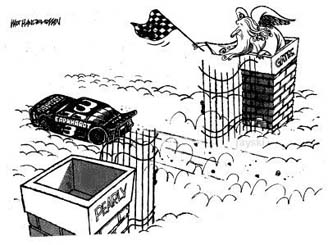 More memorial images...click on links...

An open letter to fans from Teresa Earnhardt
Dale Earnhardt's widow sent this letter to
USA TODAY so she could speak to his fans around the world.
I can never fully express my immense gratitude
for the overwhelming support we have received.
It would be easy at this time to get lost
in the sadness of losing a loving husband,
father and grandfather.
However, I and our family,
as well as everyone at Dale Earnhardt Inc.,
have chosen to take this time to reflect not on the sadness we feel today,
but on the joy Dale Earnhardt the man brought to us and
Dale Earnhardt the driver brought to so many fans for so many years.
It is a joy that will carry us through the
sadness and grief of this day and many days to come.
For our children, Kerry, Kelley, Dale Jr. and Taylor,
he was a father whose pride in his children
was greater than even his strongest desire as a competitor.
For his mother, Martha,
he was a son who always wanted
to make sure she had what she needed.
For his brothers and sisters,
he was always an influential part of their lives.
For his employees, he could be both
demanding and praising and had the ability to create the same desire
to win in the crews and drivers that he had in himself.
He was very proud of what the teams at
Dale Earnhardt Inc. had been able to do in a very short period of time
and the people who helped it happen and supported its acceleration.
For his fans, there simply was no one more sensational and with that I agree.
There were two sides to Dale Earnhardt,
and I am so blessed to have known both for the qualities they carried.
The public Dale Earnhardt wanted to be the best.
The competitive drive that burned inside
of him gave him the passion to win.
If he was racing, he wanted to win the most races and championships.
If he was fishing, he wanted to catch the most fish.
The private Dale Earnhardt,
the husband and father and son and brother,
wanted to be the best as well.
He struggled with that at times.
Emotions didn't come as easy to this man
who stirred so much emotion in other people.
But as his children grew and began making decisions of their own,
he saw that most of the time,
they made the decision by asking themselves,
"What would dad do?"
I will ask myself that in the coming days and weeks
and for a long time after that, I'm sure.
"What would Dale do?"
I think what Dale would do,
and what Dale would want us to do,
is remember the joy that his life brought.
Remember the things about him that made you happy that you were his fan.
Remember the man who loved life.
He was the happiest person I know, and that can comfort us all.
Gratefully,
Teresa Earnhardt

We belong to all the following
Paid To Click programs!!!
We have received a LOT of payments from them!!
We are recommending only these as we have tried others
but they had problems of one kind or another...
We invite you to join..some have signup bonuses!!!
21988-04072010