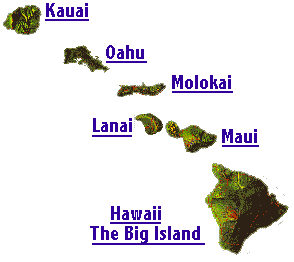 THE VOLCANOES OF HAWAI'I
Hawai'i is, of course famous for her volcanoes.

Especially Kilauea...
If it were not for volcanic action...
This glorious island chain would not exist...
SITE LINKS
AND
IMAGES

PICTURES AND IMAGES
...BEACHES
...CARTOONS/CLIPART
...SUNSETS
...VOLCANOES
...MY 2002 VISIT
...MISCELLANEOUS

LINKS
BOOKS/MAGAZINES
MUSIC
POSTERS
VIDEOS/DVDS
E-MAIL LINK

Puuoo...






ALOHA!!!
MAHALO FOR VISITING

Pele...Goddess of Fire...

Described as "She-Who-Shapes-The-Sacred-Land"
in ancient Hawaiian chants, the volcano goddess, Pele,
was passionate, volatile, and capricious.
In modern times, Pele has become the most visible
of all the old gods and goddesses.
Dwelling in the craters of the
Big Island's Kilauea Volcano,
she has been sending ribbons of fiery lava
down the mountainside and adding new land around
the southeastern shore almost continuously since 1983.

More images...scroll down to see links.

GOD BLESS

AMERICA

More images...click on numbers...

Quick nav links to our best stores!!
[ Mall Directory | Books | Harry Potter | Videos | Music | Star Wars ]

We belong to all the following
Paid To Click programs!!!
We have received a LOT of payments from them!!
We are recommending only these as we have tried others
but they had problems of one kind or another...
We invite you to join..some have signup bonuses!!!

PLAY LOTTA FUN LOTTO!!
A 6/35 Weekly Lotto Game - FREE
1398-11072005