2011 Notes and News
CADEL EVANS WINS 2011 TOUR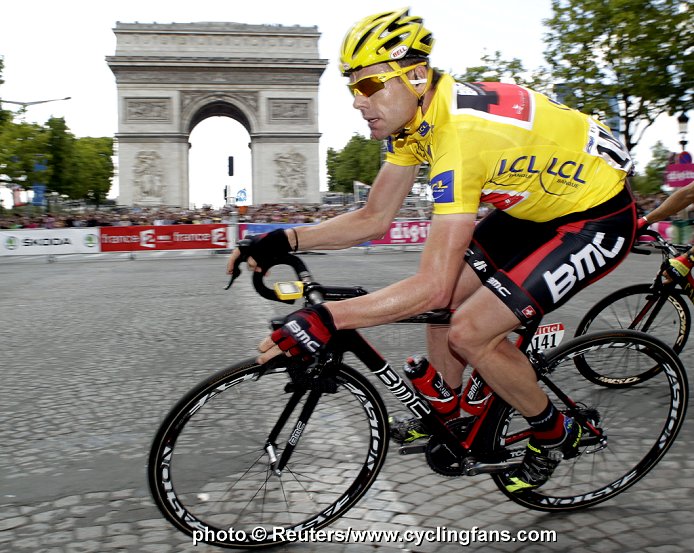 July 23 - Cadel Evans wins individual time trial and takes over the yellow jersey,
winning this year's tour by over a minute after trailing by 57 seconds before the time trial.
July 18 - Maybe we should be calling this race..Le Tour de Crash...lots of crashes..lots of riders out...
The French are really happy to have a Frenchman in yellow...and some are now calling him a real threat to win the tour. And, as of today's rest day, Contador is 4 minutes behind in the GC.
Ok...we're a little behind as we sit here and watch Stage 5 (won by Mark Cavendish)...2011 tour...
Biggest news might be Alberto Contador still has not fully gone thru the process
regarding his doping problem..but even bigger, in our view, is the fact that Alberto is over a minute behind in the GC standings...
Mark Cavendish wins Stage 5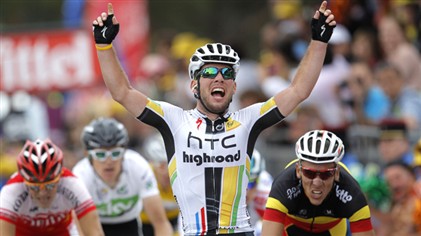 Cadel Evans wins Stage 4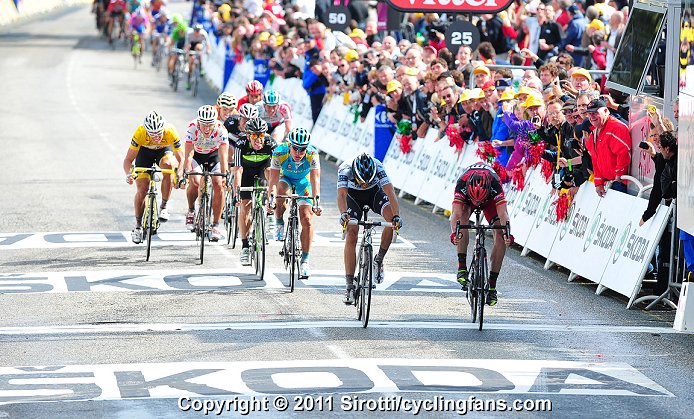 2010 Notes and News
ALBERTO CONTADOR WINS 2010 TOUR
After an exciting individual time trial Saturday, July 24, Alberto Contador has won the 2010 tour. Just the ritual ride to Paris Champs-Elysees on Sunday. Details later...
1. Lance has "warmed up" for the Tour with two podium finishes, including the Tour de Swisse
2. No reason he couldn't do it in France??!!
3. Dumb story in the Wall Street Journal: Floyd Landis on another rag about Lance being a doper. Shut up, Landis
4. Lance had a "heckler" yell at him in French during an interview. He took no note of it.
5. I'm really sorry Lance will not contend for the win.
6. July 16 - Mark Renshaw, Cavendish's main leadout man was disqualified from the race for headbutting and not riding in a straight line during the bunch sprint at the end of that day's stage.

Quick nav links to our best stores!!
[ Mall Directory | Books | Harry Potter | Videos | Music | Star Wars ]

We belong to all the following
Paid To Click programs!!!
We have received a LOT of payments from them!!
We are recommending only these as we have tried others
but they had problems of one kind or another...
We invite you to join..some have signup bonuses!!!

Special warning - I believe you should AVOID "Birdcrazymail.com" and "ValePTR.com"
at all costs. They will steal your money and kick you off their sites
without any appeal or defense!!!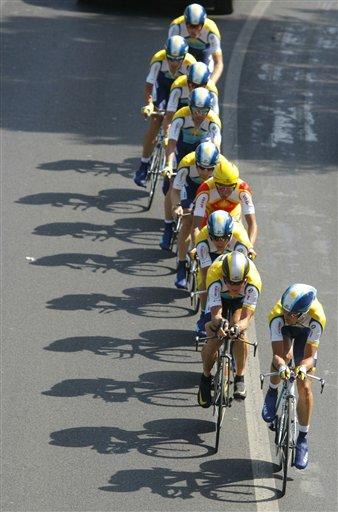 6962-07262011